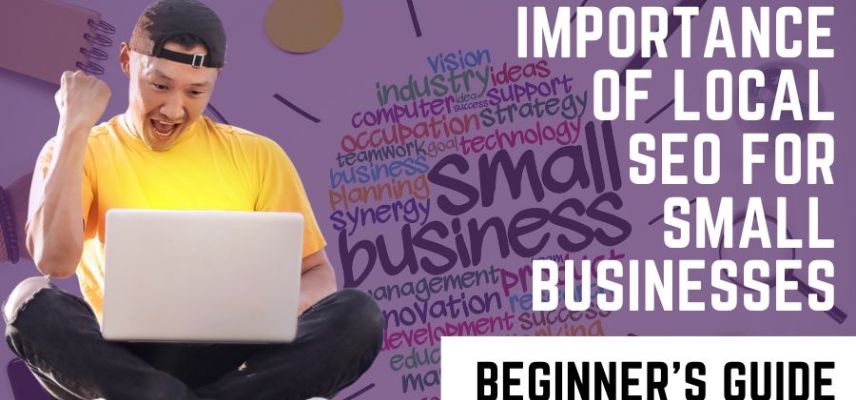 The Importance of Local SEO for Small Businesses: A Beginner's Guide
Posted on April 10, 2023
Do you wish to increase your company's visibility and revenue as a local business owner?
We have a fantastic plan to get it done for you.
As a result, you must make sure to optimize your company for local search in order to grow your local business and attract more customers.
What if we tell you that…
You can also have your company listed on the first page of Google to attract more customers.
For this, let us introduce you to The Importance of Local SEO for Small Businesses: A Beginner's Guide
The best advice and concepts for optimizing your local business for search engines may be found right here.
Let's begin, then:
What Is Local SEO?
Local SEO is a type of search engine optimization (SEO) that helps your business appear more prominently in local search results. It's an SEO category that focuses on a certain area in order to help a business rank there. A website that uses a local SEO strategy effectively can show up first in local search results or when a person specifically searches for results in that area.
The practice of local SEO involves optimizing your local business to gain greater visibility and higher profits. In addition, you can ensure that your local business has the potential for "Near Me Searches" and make it simple for your customers to find your business by optimizing it.
Is this so important? YES!
See, these days, individuals rely more on searching for businesses ONLINE than they do offline, and…
Moreover, local SEO for small businesses can be used to boost organic traffic to your website and increase its search engine ranks in addition to helping your local business's sales.
Higher Conversion Rate
There's no question about it!
It goes without saying that your company will enjoy higher conversion rates if it is fully optimized for local searches. That is, if customers visit your website and discover the products or services they require, they will undoubtedly make a purchase.
This is what basically Conversions are! Visitors convert into leads, and eventually finally loyal customers.
It's important to note that 28% of customers conduct local searches before making a purchase.
Business Expansion
It goes without saying that you want your firm to expand at some point.
For this, OPTIMIZING is a fantastic approach. This will undoubtedly improve your visibility, demonstrating your worth to the business community and enhancing the reputation of your small company.
And this is a plus point…
More people will visit and use your services as word spreads about your company. Your small business will have the chance to grow as a result of higher sales and income.
Building Long-Term Networks
Local SEO for small businesses can be used to establish lasting bonds with both current and potential clients, as we mentioned above.
For each business owner, the first thing to search for is customers. You can maintain relationships with your old customer and attract a sizable number of new ones with local SEO.
By doing this, you can also keep up good contacts with the business community.
So, by now, you must now be aware of the main advantages of local SEO for small businesses.
And coming next is…
Some tips to keep in mind when optimizing SEO for a small local business.
Local SEO Tips for Small Businesses
Optimize Your GMB Profile
Google My Business Profile is a free tool that helps business owners manage their online presence across the search engine and gain more visibility.
Let's just assume that you have already listed your business website on Google My Business.
But if not, allow us to walk you through the fundamental steps to register your company on GMB.
Open Google My Business

Then click on Manage Now

Thereafter, Fill in the details accurately

Then, Ask for the verification mail.
Here is in details:
Enter your business name and category

Specify the geographic location that you want to target

Enter the Business Address,

At last, your business Contact Details
After that, you can click the Verify button to receive a postal verification code to validate your business profile within the next five days.
Remember to completely optimize your GMB account, that's the main point.
Provide every single information about your company (name, address, contact details, product photos, location, email)

Reply to the reviews and comments of your customers.

Encourage your customers to share their reviews with a wider audience

Keep the details up to date
In addition to being a task to be done, optimizing for Google My Business will make it easier for customers to find you online.
This will ensure that potential customers can find your business extremely quickly, which will improve the number of hits to your company website.
The next tips for local SEO for business include;
Make A Consistent NAP
Consistency is crucial. A lot! NAP (Name, Address, and Phone Number) is what a customer searches for while searching for your organization.
You must make it simple and straightforward for visitors and search engines to find you.
NAP is what makes you findable while searching for near-me searches.
For example, if you operate a business Cakes and Cookies in California.
A search for "Cookies Shops near me" on Google is now possible. So, they will get…
A Local 3 Pack
Locations of the shops on Google Maps
And directories (like Yelp.com), which offer a huge variety of places to look for and visit.
Now, if you select any result, you will see all of the information about the outlet.
Name: Look's Good
Address: Fine
Phone Number: Perfect
So, NAP: All Good.
Also, they included menu cards and pictures of the meal. It is how you make the most of every opportunity.
This is how a good, or, shall we say, optimized, website looks like. As you can see, this raises their rating, which enhances the likelihood that they will receive more clicks and possibly even visits to their outlet.
Now, moving forward to the next tip…
Claim Business Directories
Company directories or citation sites are techniques to advertise your existence in the market, as we mentioned when we used the phrase "Directories" earlier.
These company directories list a variety of regionally specific small enterprises.
The key issue is that you must also register for all business directories.
Consideration of GMB as the best alternative to be cited and as the source of the majority of traffic is insufficient. Yet, did you know that Yelp.com consistently ranks in the top 5 results for every business category search?
You should also make an effort to provide accurate information about your company to directories, such as NAP, working hours, public reviews, photos, etc.
Now, you can have the following benefits as a result of being listed on these directories:
Getting More Online Customers
More potential buyers may browse for products or services after registering on well-known citation sites. Also, almost 76% of customers who use local search terms visit the company within a day.
Furthermore, 28% of those searches convert into buyers.
Increased Rankings in Search Queries
As you are aware, being listed in directories with high domain authority will help improve your position in search engine results.
But always remember to get listed in the directories relevant to your expertise. Therefore, there is no advantage to being featured in every directory. Even if it's not as RELEVANT
Perform a Local SEO Audit
Now that your business website is listed on many directories, it is time to examine its performance. For this, you have to run a Local Site Audit.
As you already know that SEO never stops and it goes on and on…
You must evaluate the effectiveness of your website and determine what changes are required.
You may examine your competition, your website's rankings, keywords, CTR, and much more with a site audit.
A local SEO Site Audit includes-
Website Audit
Provides information about your website's overall performance, including technical audits.
Google My Business Audit
Contains perfection in every part of the GMB profile. For example, company details, operating times, a precise location on Google Maps, links to other websites, and pictures. The profile's visibility on the Google SERPs will increase as it becomes more complete.
On-Page SEO Audit
When indexing your web pages, Google crawlers look for on-page SEO. A site audit identifies all errors made on the web pages and details what corrections need to be made.
It draws attention to elements like:
Title Tag: Is it missing, is it too long (60 characters), or short, or is any duplicate found?
Meta Description: Too long or if there are any duplicates.
Headings: tells if they are not there, especially H1 tags.
URL: too long or short, having target keyword or not.
Image Alt Text: determines whether or not the images have a brief description of them.
Citation Audit
Analyzes whether or not your website is listed in the appropriate directories after analysis. With company listings and citation management tools, you can locate, keep an eye on, and update all primary citations with your correct Name, Address, and Phone Number.
The objective is to identify the locations that have not yet been listed.
Content Audit
All that matters is the content. It is what satisfies your audience's needs and demands.
Creating high-quality content is essential for local SEO for small businesses. also producing content that responds to each of the form's inquiries (what, why, who, how).
Improve Your Internal Linking Structure
For small business local SEO, both internal and external linking are crucial parts.
But we will now discuss how to enhance your internal linking strategy. A link that connects one page of a website to another is known as internal linking.
Coming to the benefits of internal linking:
Give more value to the users

Increases the potential of getting backlinks

Enables search engines to index your web pages more quickly.
Let's talk about some internal linking best practices that you really must adhere to:
Create More Content
The chances of linking additional pages to one another will increase as you add more content.
Choose the Right Anchor Text
A text called an anchor text is used for internal linking. You must pick the appropriate anchor text that is relevant to the interlinking context.
Try to Put Links in the Beginning
Including internal links at the start of a page helps prolong visitor stays and lower bounce rates.
When you place these links at the top, there is a good probability that people will click on them, which will almost certainly direct them to your website.
You can enhance your website's internal linking structure in this way. In conclusion, by using these techniques, you can make it simple for Google bots and users to navigate through your website.
Your local SEO for tiny local businesses will be greatly enhanced by this.
Add a Location Page to Your Website
You can include location pages on your website if your company has many locations. These pages give visitors information about your company's specifics (Name, Address, Phone Number).
Get Inbound Links
Links coming from other websites are known as inbound links or backlinks. Do we really need to obtain backlinks as tiny businesses?
We'd start by responding YES! It is crucial that you obtain backlinks for your small business since they will inform search engines like Google about the reliability of your website.
If other websites link to you, Google bots will likely rank you higher, which might increase traffic.
Search for terms associated with the specialty of your website and then compile a list of the websites you believe to be the best.
You must now visit Ahrefs.com and enter the domain Address of each website you listed one by one.
You can use it to see the backlinks they have and afterward, outreach those websites to request them to link you back.
And lastly, you can ask for links from websites that are similar to yours to the content you have posted on your website. You will get backlinks by doing this.
Guest Posting, or posting an article on other websites to get backlinks, is an additional method of getting backlinks.
Some more creative options include hosting a community event, advocating for a local cause you care about, sponsoring a webinar or meet-up, and making connections with influential individuals.
You may increase the awareness of your business by using these practices for gathering inbound links.
Target the Local Keywords
Local keywords are those that individuals use when looking to buy a product or service. Your small company website may receive more local visitors if you rank for such keywords.
People disregard this step because they believe they are aware of how potential customers are finding their business online. Because of this, they often focus on the wrong keywords or completely disregard keywords that could improve their bottom line.
For instance, if you're a California-based photographer, you've presumably already determined that you wish to appear for phrases like "photographer in California." Nevertheless, have you given any thought to your other services? Do you have a page specifically for product photography or wedding photo shoots? Do you have any idea how individuals find those services?
Your customers are looking for this, so you should target these terms as well.
You must not give Google any room to rank you lower in the search results…
So, you must carry out local keyword research to compile the best target keywords.
We have a few easy steps for you to follow in order to do this:
List The Services You Offer

Understand Explicit and Implicit Keywords

Include Your Core Term in Your Keyword Research Tool

Organize Your Keywords with Search Intent

Add Locations to Your Keywords

Group and Map the Keywords
You can take the help of Keyword Research Tools such as Google Keyword Planner, SEMrush, Ahrefs, and many more…
Now that you've identified the keywords, let us explain how to use them and develop content centered on them.
Create Local Content
The final step in performing local SEO for small businesses is creating content. It is crucial to produce content that benefits both your audience and your company in order to implement a successful SEO strategy.
Now, just because you're creating content doesn't mean you have to write whatever seems to be there.
Provide content that is educational and beneficial to your audience instead.
In the end, it's your content that will persuade people to buy your goods or use your services.
So, there you have it—a few pointers to help you improve your content's audience appeal and advance the local SEO objectives of your small business.
Include Local Keywords in Your Content
You need to have an optimized content strategy in order to rank. The first consideration for this is including target keywords in your material.
For instance, if your company sells things in your neighborhood, your content must describe those products and provide SEO-friendly descriptions.
Write in a Conversational Tone
This is a genuine way to communicate with your clients. Consider this to be a discussion with a friend. You need to talk to your customers in the same way you talk to your friends.
Your Content Should Be Answering the Queries of the Audience
Using the same example, when developing the content, you must incorporate every aspect of the product. Mentioning the cost, level of quality, attributes, advantages, and so forth.
Include Attractive Visuals and Videos
The text you write is supported by images and videos. You must include the right images and videos in your content to increase its appeal and readability. This makes it simpler for the customers to make a purchase because they can relate to it so simply.
Your Content Should Be Voice Search Friendly
Optimize your content for voice search questions. Like your website should appear right away on Google SERPs if someone searches for your product on Google.
Conclude with a Call to Action
You can increase conversions by adding CTA buttons. This is how real SALES occur.
Using a CTA, whether to convey urgency or point the user in the proper way, is the most important thing to keep in mind. Ignoring it would be a mistake that would likely result in a rapid drop in your numbers.
Here are a few CTA button examples:
Call Us

Get A Free Trail

Share Now

Share Us on (Social Media Websites)

Claim Now

Send A Message
Conclusion
Here you have, The Importance of Local SEO for Small Businesses: A Beginner's Guide.
You must be aware by this point that growing your small business requires a lot of effort and commitment on your part as the owner. The same is true for small business local SEO.
Even if it takes a lot of time, the end outcome is considerably more favorable in the long term.
You can achieve better results by using the small company local SEO tips given above.
Therefore, be sure to follow these tips, beginning with adding your business to Google My Business, then producing the content and making the necessary changes right away to achieve the desired results.
Any SEO strategy for local businesses must include local SEO as an integral part. If you have a physical location, such as a shop or service area, local SEO can help customers in finding you when they conduct internet searches. We hope that this blog will be helpful in your journey to establish your brand's authority online.
And if you are ready to get started with it, Tech Zent Solution is always there for you.
With Tech Zent Solution, you can successfully optimize for Local SEO and get more traffic and sales.